Friday, December 20, 2013 at 12:30PM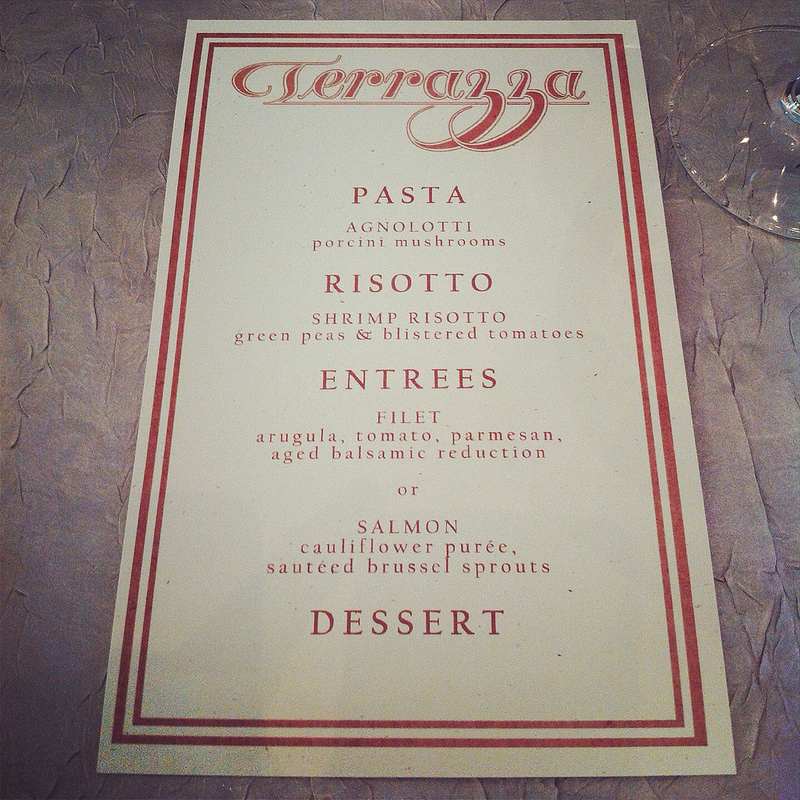 Preview Menu
Beyond the nouveau classic look at The Grill and mirin and ichi togarashi rim cocktails at Dusk — The Ritz-Carlton, Naples has birthed a new way to give. My suite overlooking the Gulf of Mexico, turndown service with cassava chips are perks of five star accommodations but discovering the resorts' series of complimentary dinners with the goal to raise 100k directly benefit local organizations, enhanced my stay. During November and December, the iconic South Florida's property donated one hundred, three-course meals for ten dates. Each evening, a single nonprofit put money in the bank, thanks to Naples' community of diners. One nonprofit was The Immokalee Foundation "dedicated to building pathways to success for children." I first read about immigrant and migrant workers living in the town of Immokalee between the pages of Ripe: The Search for the Perfect Tomato by Arthur Allen, which tells the story from the vine to the dining room table.
Interior-Terrazza at Ritz-Carlton, Naples
"We wanted to do something unique and special to celebrate the re-mastering of our resort and the opening of our Terrazza restaurant, said Bruce Seigel, Director of Sales & Marketing, The Ritz-Carlton Resorts of Naples. "Support for our local community has always been part of the philosophy here at The Ritz-Carlton, Naples, and we are delighted to work with top charitable organizations to host these dinners and have them celebrate Terrazza's opening with us." My trip agenda included a culinary preview of Terrazza. The signature item called "Anabella's" Octopus, perfectly grilled seafood with grape tomatoes, black olives and fingerling potatoes became one of my most memorable bites of 2013. Also, the newly opened "Italian"-inspired restaurant offers "delectable dishes made with fresh ingredients sourced from local farmers and purveyors."
Terrazza at Night
As we continue through the holiday season, let us clink our wine glasses to restaurateurs, growers and eaters. In the new year, I'm challenging myself to creative giving and more sophisticated plates of food—join me!
Disclosure: I was a guest of the Ritz-Carlton, Naples. I received zero compensation for this post. All opinions are my own.

Nicole
|

Post a Comment
|