Friday, June 14, 2013 at 12:17PM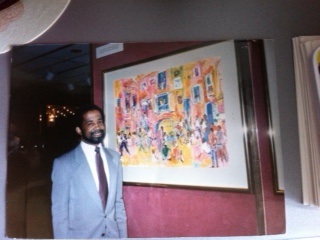 Ronnie Shorter
Seven months ago, my father died. The relationship was complicated, mysterious and void of almost every possible thing but he left me one gem that I hold close to my heart.
Tucked between the Ginkgo trees was Harry Bissett's in my hometown. Lunch at this white-tablecloth establishment is the sole childhood memory of enjoying the company of the man that was absent--I was around seven years old. The New Orleans themed restaurant helped me connect the dots between working class food and fancy "university folks" fare. At that moment, I knew that Morrison's Cafeterias's chopped steak was all good but living a fuller life was within my reach.
Twenty plus years later, we partook in another meal together at a Southside Chicago greasy spoon, a handful of conversations about his Starbuck habit and he gifted me photography of his travels around the world. On Father's Day, I raise a glass to forgiveness and the power of one meal.