Wednesday, April 11, 2012 at 12:16PM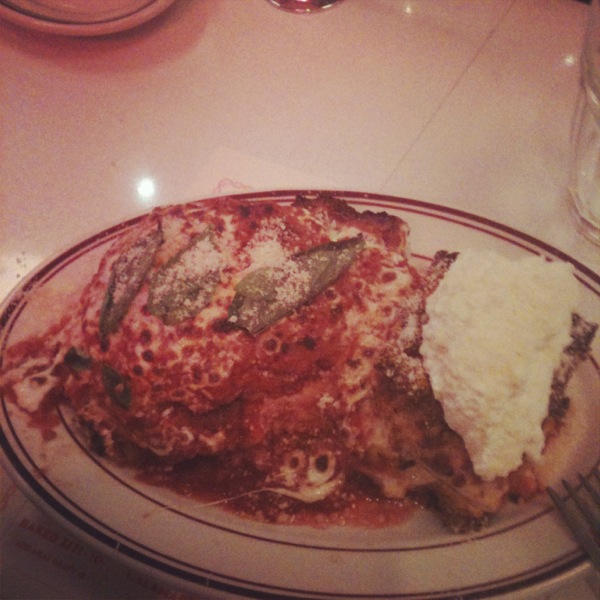 Chicken Parm-Parm NYC
Traveling for food beyond Columbus Circle is similar to a weekend getaway in Philadelphia - lovely but too many glances at my iPhone map. Something about eating below 14th Street in New York City and a hipster waiter beams me home. Last month, I walked gingerly into Parm NYC and sniffed the epitome of retro diners. I perched myself at one of the bar seats, admired the menu typography and chewed on chicken parmesan. Sitting on the smooth leather stool and digesting nibbles off a green trim plate reminded me of The Grill - a college town burger joint.
My mama has no clue what a hipster is but affectionately calls me a townie. Urbandictionary.com defines townie as a term used by students - outside of England who have went to a new city for school to describe the natives of that town. It is often seen as derogatory by those who use it, but townies often embrace it as a badge of honour. Until recently, I characterized townies as college students who rebuffed all the monograms and southern spring formals (wrong for over 20 years). Thinking back, townies were the hipsters of my youth. The converse wearing, grunge music listening, front of the house order takers and the heart of downtown Athens in the 1980s.
Shopping along Clayton and College Avenues always meant picking up Mexican wedding cookies at the now defunct Cookie Co., and skipping across the street for the finest hand cut fries (nothing beats The Grill's crinkled potatoes). Unknowingly, my mother was prepping my taste buds and allowing me to see a generation marching to the beat of their own horns. I'm always listening for the high notes of my childhood. Thanks to a wonderful Nolita eatery, I found it.