Sunday, October 2, 2011 at 6:17PM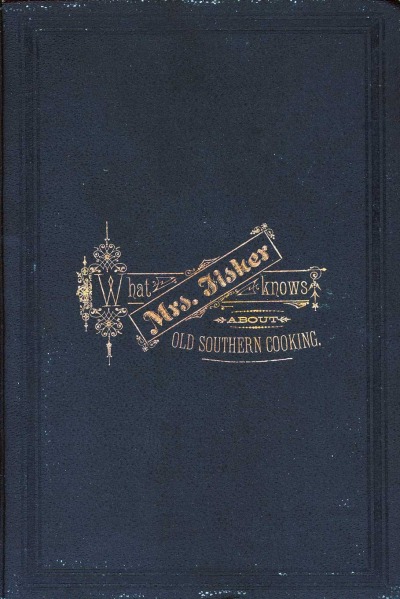 Photo Credit :: Michigan State University Library MuseumWhat Mrs. Fisher Knows About Southern Cooking, Abby Fisher, Women's Co-Op Printing Office, S.F. 1881.
Published in 1881, this seminal work on Southern cooking is among the first cookbooks authored by an African American. Abby Fisher, a former slave from Alabama, moved to San Francisco shortly after the Civil War, where she built a successful catering business. Well known and respected for her culinary knowledge and skill, she also produced a line of pickles and preserves for commercial sale that won medals at county and state fairs. Covering everything from preparing fresh game to making tomato sauce and baking pastry, the recipes in this book make sparing use of standard measurements. It's conversational style reflects early American cuisines' reliance on oral transmission for the sharing and presevation of cooking knowledge in a society where most families prepared their meals at home every day. This book is nearly impossible to find in print today but is available in facsimile at stores specializing in rare and out of print books, (my go to in New York is Kitchen Arts and Letters, which specializes in cookbooks old and new,) and also online as an e-book. A fascinating look back in time that points out that some of the best things never change
Highlights: a chapter on pickling and preserves that includes peaches as well as watermelon rinds, directions for roasting a whole pig, and a recipe for Tonic Bitters, a "Southern Remedy for Invalids".
Do you have a collection of old family recipes or a vintage cookbook that you look to for inspiration? Tell us about it!

Shannon
|

2 Comments
|